St Peter & St Paul Church , West Newton , Norfolk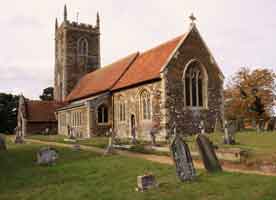 This pretty church of medieval origin was in a dilapidated state before it was almost completely rebuilt and redesigned by the architect Arthur Blomfield in 1881. Nevertheless it does  retain a number of its earlier features including an imposing 14th century tower,  and a simple 15th century font.
Apart from an evocative WWI memorial window to the memory of Frank Beck, and his Norfolk Regiment, the stained glass was all made by Heaton Butler & Bayne.
For further information and to view the details of each window click the

boxes below. For a downloadable and printable fact sheet click