Stained Glass of St Clement Church,Outwell, Norfolk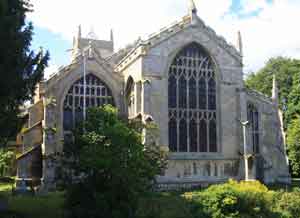 This large and impressive Fenland church was originally constructed in several stages from the thirteenth to the sixteenth century. The tower provides a perfect example of how medieval parish churches develop. Thus it   was started in the 13th century in an Early  English style, in the early 14th century it was given a  Decorated  top whilst in the 18th century the Victorians intervened with the addition of a pyramidal cap.
The windows themselves are of various designs and include both Perpendicular (see picture of church) and Decorated features .  All of the remaining and recorded lost glass appears to have originated in the eastern arm of the church including the chancel, north and south chapels at the end of the aisles and a north transept chapel. The remaining medieval glass dates from both the 15th and 16th centuries and is located in three windows. The most impressive selection can be found in the South Aisle east window (the Beaupre Chapel) where the tracery contains a selection of 16th century figures and shields.
For further information and to view the details of each window click the

boxes below. For a downloadable and printable fact sheet click