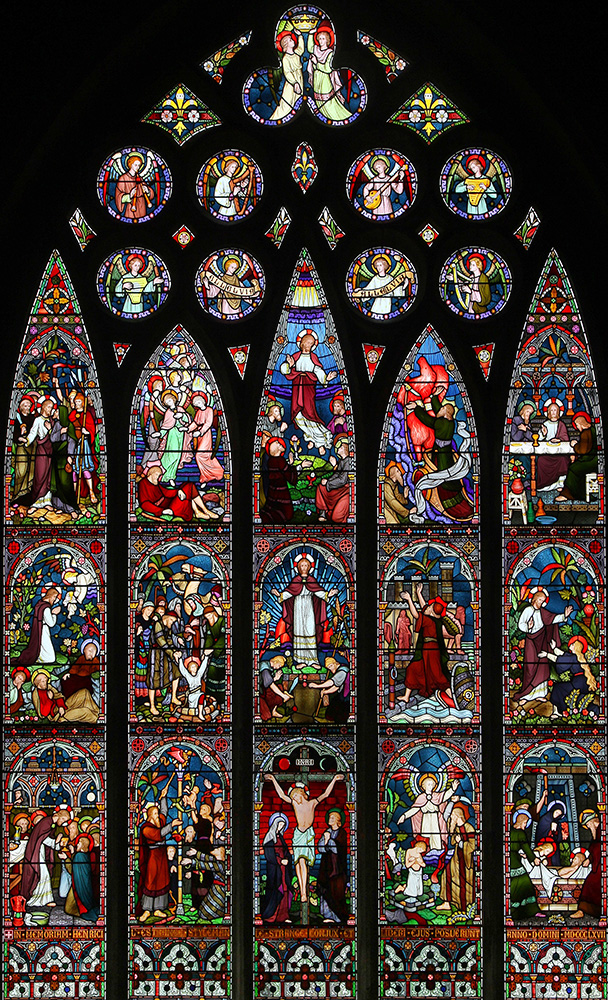 Click/tap for Full page Zoomify view

Believed by many to be Frederick Preedy's greatest work the window was designed c1867 to commemorate the death of Preedy's cousin, Henry Styleman le Strange of Hunstanton Hall. Following a restoration in 2005 the glass was replaced in pristine condition allowing Preedy's work to be admired in all of its glory.
The apex of window contains the 'Crown of Glory' below which the tracery lights depict a heavenly host of angels holding banners and playing instruments.
In the main lights Preedy has used a device called typology, which was very popular in medieval times, whereby Old Testament events are seen as anticipating those of the New Testament. Thus for example he produces a scene from the Old Testament story of Abraham being ordered by God to sacrifice his only son Isaac which is clearly linked to New Testament scene of Christ's crucifixion. Similarly both  Elijah and Christ are depicted ascending to Heaven. The following scenes are represented:
First column. Top to bottom:
1. The soldiers arrest Jesus in the Garden of Gethsemene
2. Peter, James & John sleep as Jesus prays in the Garden of Gethsemene
3.Jesus offers the cup of wine to his disciples during the Last Supper.

Second column. Top to bottom:
1. Jacob's dream at Bethel where he sees a stairway to Heaven
2. Joseph is taken from the well to be sold to the Ishmaelites
3. Moses makes a bronze serpent. Anyone bitten by a snake who looked at it was cured.
Third column. Top to bottom:
1.The Ascencion
2.The Resurrection
3.The Crucifixion.
Fourth Column. Top to bottom:
1. Elijah, watched by Elisha,  ascends to Heaven in a whirlwind
2. Jonah emerges from the whale (large fish)
3. Abraham and the sacrifice of Isaac.

Fifth Column
1. The meal at Emmaus on Easter Day
2. Jesus appears to Mary Magdalene in the garden outside the tomb
3. Joseph of Arimathea and Nicodemus lay Jesus' body in a new tomb.