Stained glass of St Mary's Church,Pulham St Mary, Norfolk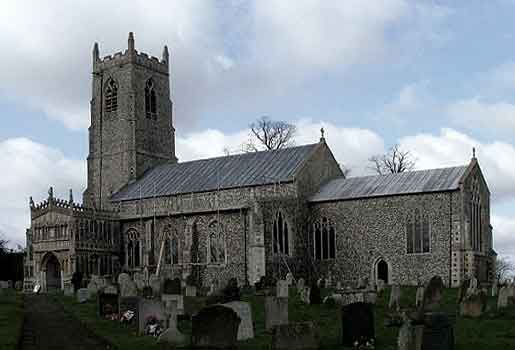 This very attractive medieval church underwent a full restoration in 1886. Unlike many other restorations of the period many beautiful features were repaired or enhanced rather than removed. Thus, for example, it boasts one of the most lavish 15th century porches in the county, an early 15th century arcade and a rood screen of the same period with a first class 19th century top.
Most of the glass was designed by the firm of Burlison & Grylls and was installed in the late 19th or early 20th century. Burlisson & Grills were important designers at this time the firm being formed by designers who originally trained with the renowned glass designers Clayton & Bell.  Additionally medieval fragments, many attributable to the 15th century Norwich school of glass-painters, have been retained and reset into a number of the windows.
For further information and to view the details of each window click the

boxes below. For a downloadable and printable fact sheet click