Walpole St Peter Stained glass Norfolk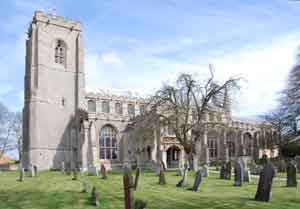 This magnificent building measuring over 160ft long is rightly called the 'Queen of the Marshlands'. The tower, built c1300, is the only part of the church to survive a flood in 1337 and is plain relative to the rest of the exterior which is Perpendicular in design and boasts outstanding decorations.

The interior contains many treasures including: a 17th century screen, early Perpendicular nave arcades, pews dating from the 15th to 17th centuries, an outstanding collection of roof bosses and a beautiful chancel complete with a tunnel. The latter is a passage complete with cobbles underfoot, a tierceron vault and roof bosses believed to be an ancient processional route  
The majority of the stained glass dates from c1900.
For further information and to view the details of each window click the

boxes below. For a downloadable and printable fact sheet click