Stained Glass of St John the Baptist Church,Mileham,Norfolk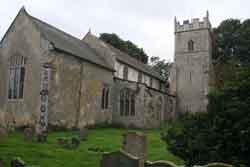 A church existed on this site as early as the 11th century.  The current attractive building dates from the 13th century although it was not completed until later. On display are both Early English and Decorated architectural styles.
Rather unusually the 14th century tower is set on the north side of the church, leaving the west end free to : "give the best impression we can have in Norfolk of what a typical complete 14th century window would have looked like" (David King). In contrast the modern east window was inserted in 2004 creating an interesting juxtaposition between the two styles.
For further information and to view the details of each window click the

boxes below. For a downloadable and printable fact sheet click