St Andrew's Church , West Dereham , Norfolk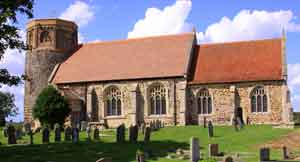 St Andrews Church is a grade one listed round towered church. The round ironstone tower, which may have been built in Saxon times, has a Tudor brick octagonal top ,its internal diameter of 17ft 4 inches is the widest of all the Norfolk towers. Additionally the church has a nave and chancel largely unchanged since the perpendicular windows were fitted in the 15th century.
Items of interest inside the church include its 14th century font, Jacobean pulpit and 17th century communion table, not to mention a poor box constructed from a 16th century table leg! Fragments of medieval glass are contained in the east & south aisle windows some of which is believed to have originated in West Dereham Abbey which was dissolved in 1539.
For further information and to view the details of each window click the

boxes below. For a downloadable and printable fact sheet click