Stained Glass of St Mary & All the Saints, Little Walsingham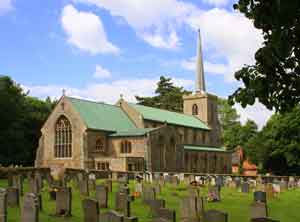 On the night of 14th- 15th July 1961 this beautiful medieval church was gutted by fire at the end of which all that remained was the tower, the south porch and most of the external walls. By 1964 the church had been rebuilt. Under the aegis of Laurence King a replica was produced.
Over this period most of the windows had to be replaced and the opportunity was taken, despite the general philosophy of restoration, to install a modern east window. The window was both designed and executed by John Hayward. The window adds much to the ambience of the church which retains a lovely mix of colour and light.
For further information and to view the details of each window click the

boxes below. For a downloadable and printable fact sheet click