Stained Gass of St Peter's Church, Dunton, Norfolk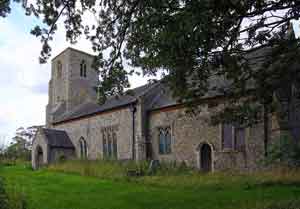 This attractive church is believed to be of Norman origin. The existing chancel and one of the nave windows can be dated to the 14th century, whilst, apart from the 19th-century porch, the rest of the building was constructed in the 15th century.
Notable interior features include a ledger stone dedicate to Matthew Lancaster (d. 1658) who claimed descent from, 'John Lancaster...founder of Lancaster Castle from whom issued 50 or more knights, Esquires and Gentlemen of qualitye'. The windows contain 19th-century stained glass, and encompass a dedication to Clement Felton, the chairman and guardian of the 'poor of Walsingham' (east window.)
For further information and to view the details of each window click the

boxes below.