Stained Glass of St Lawrence Church, Harpley, Norfolk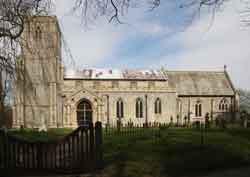 St Lawrence is a wonderful church exhibiting many medieval treasures. Dating from the Decorated period it was enlarged between 1294 – 1332 and has many Perpendicular additions including a clerestorey, aisle and porch.
Stained glass from both the 14th and 15th century can be viewed in the windows, along with more modern examples. If you visit the church don't forgot your binoculars to enable you to appreciate the detailed pictures of 15th century saints contained in the west window.
For further information and to view the details of each window click the

boxes below. For a downloadable and printable fact sheet click