The Stained Glass of St Mary's Church, North Tuddenham, Norfolk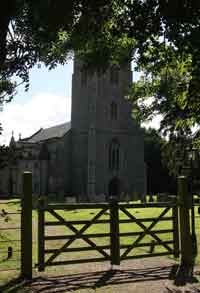 This attractive medieval church contains a superb collection of medieval stained glass, all the more remarkable as the majority of it was not painted for the building. It was actually bought by the Rev. Robert Barry (Rector 1851 – 1904) for the princely sum of half of a guinea from a builders' yard in East Dereham. He arranged for most of it to be installed during his lifetime whilst his successor, the Rev B.J. Armstrong ,  filled two porch windows with much of the remainder, donating the surplus to Welbourne Church, where it can now be found in the East window.
There is some debate as to the original provenance of the glass with some suggestion that it could have originated in either nearby Lyng  or Billingford (near North Elmham). The fact that neither Blomefield nor Martin mention the glass at either site suggests this was not the case – leaving us with an unsolved mystery.
The treasure trove includes some of the best medieval glass in Norfolk with the 15th century scenes depicting  St Margaret & St George in the west window and the figure of St Laurence in the South Nave (window 2) being of particular note.
For further information and to view the details of each window click the

boxes below. For a downloadable and printable fact sheet click