Stained Glass of St Peter's Church, Great Walsingham, Norfolk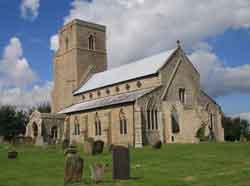 The church was virtually all built in the late 14th century. Despite the destruction of the chancel leaving a somewhat truncated east end it remains a very attractive building. Of particular importance are both the arch braced roof and a complete set of 15th century benches, the latter of which are a rarity in Norfolk. 
The windows are noted more for their delicate, lace like tracery (reticulated) than their stained glass, nevertheless fragments of 14th century glass can still be viewed in the tracery lights and the heads of a selection of the main lights.
For further information and to view the details of each window click the

boxes below. For a downloadable and printable fact sheet click