Stained Glass of Surrey House, Norwich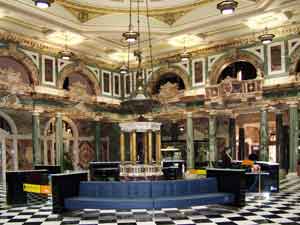 It is almost impossible to prepare yourself for your first sight of Surrey House and its astonishing interior, where the beauty of marble and the skills of the architect have combined to create a unique spectacle.

Erected on the site of the house of Henry Howard, Earl of Surrey (1517-1547), the building was started in 1900 and opened for business in 1904, although work continued through to 1912.

The inspiration behind Surrey House was local architect George Skipper, who was commissioned by the Society's directors to produce a splendid yet functional office space. His design, a credit to his individuality, incorporated various Greek and masonic symbols, evidence of the influence of Charles Arthur Bathurst Bignold, descendent of the original founder of Norwich Union, classically educated and a prominent Mason at the time It was Skipper who persuaded the directors to buy the marble which makes up the forty magnificent columns in the main hall - marble which was originally destined for Westminster Cathedral.
In a building blessed with so many riches it is very easy to ignore its stained glass yet in the Ante room can be found a collection of glass dating from the 16th and 17th centuries including glass originally made for Henry Howard's 16th Century home.
For further information and to view the details of each room click the thumbnail photographs below. To find out about the intrigues of Tudor life for Henry Howard click here.