Stained Glass of St Barnabas' Church, Norwich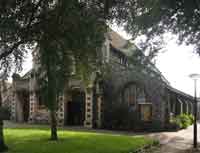 The foundation stone for the church was laid in 1903. The parish was poor and progress depended on funds being raised. Nevertheless, within three years the main building was competed whilst over the next four years a vestry and organ chamber were added.No funds were available for stained glass, however, over the years this omission has been rectified.
For further information and to view the details of each window click the

boxes below.