Stained Glass of Sentinel House, Norwich
In the late 1980s the Insurance Industry was flying high with expectations of large future profits based upon a massive increase in sales of all types of investment policies. Rather than move to London the Norwich Union decided to develop an ultra modern investment centre in Norwich using the latest technology of networked data feeds and online interactive trading supported by an efficient clerical operation. As with the "Marble Hall" almost a century earlier there was a need to build something impressive rather than penny pinch. Hence Sentinel house was born from the boom of the 1980s.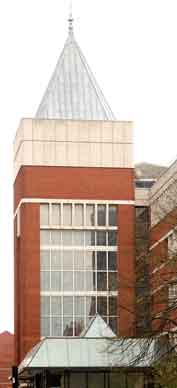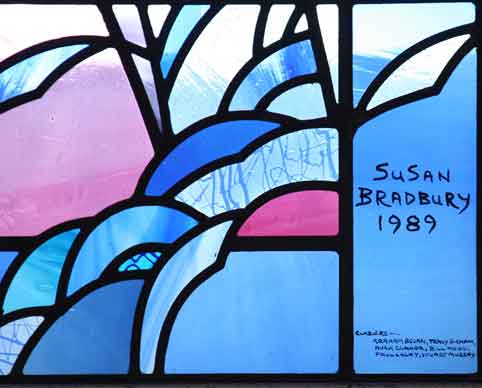 "The artist's main aim is to create works of art using the vibrance and sparkle of hand-made glass to enhance the specific architectural situations.
" "Fire and Life". Two sides of a lift tower at Norwich Union Offices, Norwich, filled with vast expanse (150 sqm) of glass representing sparks, flames, waves and splashes, with richly decorative acid etching.
A tower of stained glass that when viewed from the inside flows not like a river but as a ever changing variety of blues reflecting and filtering the light of the sky. Impossible to give it justice on a small screen but to view a gallery of images click the arrow.