Stained Glass of St Andrew's Church, Norwich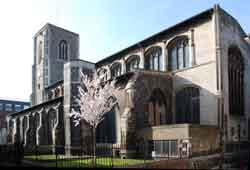 The church is the second largest medieval parish church in Norwich. It is a fine example of a hall church in late perpendicular gothic style complete with a timber roof of tie beam construction. The tower is the oldest part and dates from 1478. The rest of the building was erected by 1506 when it replaced and existing structure. The wealth of the parish is reflected by the use of freestone to face the building.

The building contains many interesting features including a row of carved shields believed to date from the 15th century and be associated with William Appleyard, who in 1403 became the first Mayor of Norwich. Additionally the church has one of the finest collections of memorials in the City of Norwich. Here are represented Mayors, an Alderman, a sea captain and a variety of business leaders. In particular the Suckling Chapel contains a gallery of late Elizabethan and Jacobean memorial art.
Although the majority of glass in the church dates from the 19th century, very good examples of 16th century glass have been reset in the south aisle windows. One such panel depicts the 'Dance of Death' and is remarkable as being the only surviving example of this subject reproduced in glass in the country.
For further information and to view the details of each window click the

boxes below. For a downloadable and printable fact sheet click