Stained glass of St Stephen's Church, Norwich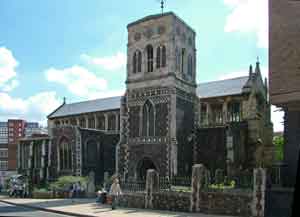 St Stephen was one of the three churches of Norwich's new French Borough. Its chancel was built as early as 1522 but it's nave was not constructed until after the Reformation. The entire church was refurbished in 1859.
Unfortunately much of the church's stained glass was lost in "The Great Blow" of 1648 an explosion which also destroyed much of the glass is St Peter Mancroft. The East window does, however, contain some 1511 glass originally located in the monastery of Mariawald in the Ruhr valley, given to the church in 1794 and 1803, together with some English glass of a similar date. The glass in the other windows was made post 1800 with much of it dating from the 20th century.
We are in the process of photographing and documenting all of the windows but cannot complete until scaffolding is removed. In the meantime a partially complete page is being made available.
For further information and to view the details of each window click the

boxes below. To learn more about the church visit www.norwichchurches.co.uk/St Stephens