Stained Glass of Christchurch, Eaton, Norwich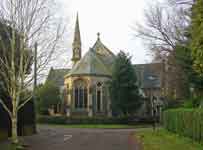 This attractive church built in a neo Gothic style in the 1870's is an attractive oasis in a popular suburb of Norwich. It was originally built before the surrounding neighbourhood to ensure the "right calibre" of resident was attracted to live in the new housing.
The stained glass varies considerably in age from 15th century fragments in the porch to a 1985 east window of modern design.
For further information and to view the details of each window click the

boxes below.