Stained Glass of St Mark Hall Road Norwich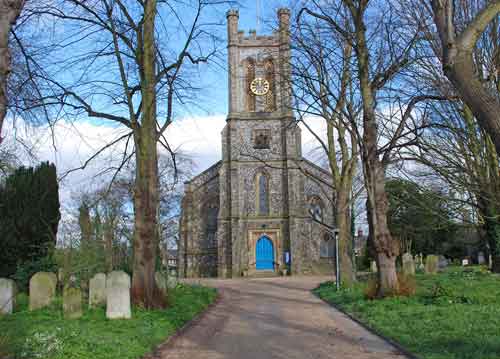 The foundation stone of this impressive Victorian church, made of flint a gault brick, was laid in 1843. The building, which was an early work of the Diocesan Architect, John Brown, was consecrated in the following year. Notable external features include a west tower with polygonal buttresses and turrets.

Inside, the church contains a number of attractive and unusual characteristics, including boxed pews in the gallery. However, one of its highlights is the colourful rood screen. Constructed in 1910 and painted in 1913, the screen is decorated with figures and paintings to designs by Temple Moore and George Frederick Bodley, both pupils of George Gilbert Scott. Virtually all the stained glass windows were destroyed by bombing raids in 1942. Today, of particular note are the splendid panels in the apse windows which were designed by Ward & Hughes.
For further information and to view the details of each window click the

boxes below.
For a downloadable and printable fact sheet click