Stained Glass of All Saints Westlegate Norwich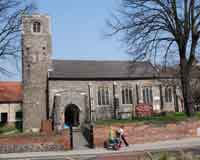 Despite being dwarfed by a large office complex, a tower block and a department store this medieval church remains the focal point of Westlegate and All Saints Green.
The Perpendicular nave windows with their "flat" arches and strong vertical emphasis date from the late 15th century whilst the pointed arches and curved tracery of the chancel windows point to these being of earlier construction. Although the east window is of 14th century Decorated style it is actually a Victorian addition.
In the windows themselves the only coloured glass that remains are Medieval fragments that have been reset in 3 windows in the north aisle and a 1921, World War 1 memorial window by F. C Eden.
For further information and to view the details of each window click the

boxes below. To learn more about the church visit : www.norwichchurches.co.uk