The Stained Glass of Norwich's Anglican Cathedral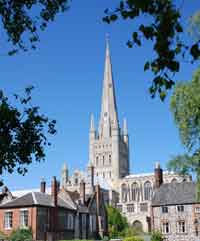 Norwich Cathedral is one of our treasures. It's elegant steeple which can be seen for miles, epitomises the "Fine City". When one enters the building one has an overwhelming feeling of space and light. As with most Norman Cathedrals this would not always have been the case, when originally built both walls and windows would have been a riot of colour. In the case of the Cathedral one should not mourn what has been lost but enjoy what can now be seen.
It is true that most of the Medieval glass originally designed for the Cathedral was destroyed in both the Reformation and the Civil War (although a few fragments remain in the Deanery), however, since a major 1830 refurbishment the opportunity has been taken to reintroduce stained glass to the building. As a result not only is a vast display of Victorian glass on display but also glass dating back to the medieval period was reintroduced.With the Dean and Chapter encouraging leading families to commission memorials, the two World Wars saw further windows commemorating the dead. Time has not stood still and contemporary glass has been introduced including panels by Keith New & John Hayward, in the North transept.
Thus the Cathedral is almost a "stained glass museum" allowing one to look at glass produced in a range of styles in many cases by leading craftsman.
For further information and to view the details of each window pass your cursor over the circled numbers to see a thumbnail pop-up of the window.
Click the circled number for an informative panel to appear
. To learn more about Norwich Medieval churches visit :
www.norwichchurches.co.uk
For further information refer to th following books (full details in the bibliography) : "Windows of Norwich Cathedral" by John Macdonald & "Norwich Cathedral : Church, City and Diocese 1096 - 1996" -edited by Atherton et al. Both can normally be purchased in the Cathedral shop