Stained Glass of Holy Trinity Church, Trinity Street, Norwich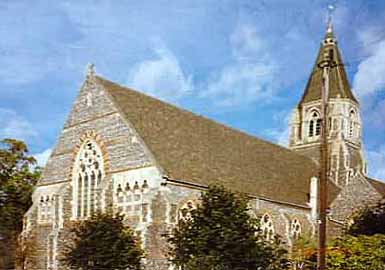 This imposing Victorian church, made of brick faced with flint, was built 1859 – 61 by William Smith (of London) to serve the new suburb of South Heigham. The building is dominated by the tall east tower (40 metres high) which rises above the apse and ends in an octagonal top and spire.

The interior boasts a simple arch-braced roof over a large open space with a tiered-seating gallery at the rear. The stained glass mostly dates from the late 19th century and includes work by Clayton and Bell.
For further information and to view the details of each window click the

boxes below.
For a downloadable and printable fact sheet click