Stained Glass of Christ Church New Catton, Norwich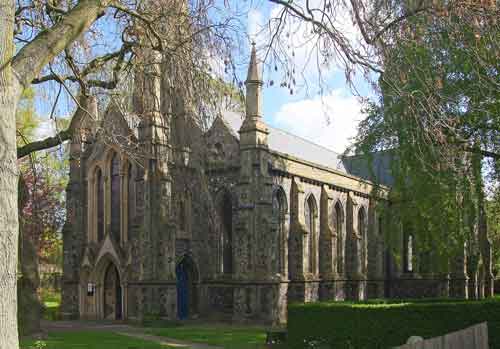 The foundation stone of Christ Church was laid on 23 June 1840. It has the distinction of being the first Norwich church to be built outside the city walls. It was established to service a new community that had come to the city from its rural hinterland in search of work. The building cost £2400 and was consecrated by the Bishop of Norwich on 16 November 1841; the occasion being marked by a procession and a demonstration by the Chartists!

This lovely impressive building was designed in an Early English Gothic style, and so incorporates many pointed arches known as lancets. It was built using flint and gault (a heavy clay) brick: both locally sourced materials. The interior is light and airy, and although the glass is mostly clear two windows contain stained glass dating from the late 19th/early 20th centuries.
For further information and to view the details of each window click the

boxes below.
For a downloadable and printable fact sheet click