Stained Glass Makers of the Nineteenth Century
Intro
High Vic
PreRaphs
Europe
Yarrington
Dixon
King
Clayton & Bell
Heaton
Powell
Wailes
Warrington
Lavers
Hardman
The Victorian Glass Makers
At the dawn of the 19th century, the glass staining and painting industry in England had all but disappeared. In Norwich firms which survived relied on heraldic glazing. However, the Victorian era saw a huge reversal in fortunes, this was largely the result of: a rapid growth in population; the 1818 Church Building Act (which set aside £1million pounds to build churches in unprovided areas ); the effects of the Anglo Catholic revival of worship; the restoration of existing buildings; and an increase in wealth. The latter led to the growth of the "continental grand tour" which heightened the appreciation of the earlier church arts of France, Germany and the Netherlands and the importation of stained glass. Interestingly the latter generated a revival in both the installation of foreign stained glass but also its production in England.
Although the demand for imported stained glass was a national phenomenon, by chance between 1800 and 1820 a large portion of this trade took place through John Christopher Hampp, a Norwich weaver and merchant. Much of the glass, which became available after the French Revolution, was installed in churches, mansions and cathedrals both in Norfolk and across the country. Thus the Victorian Glass makers undertook three main roles namely: the installation of foreign glass collections, the restoration of medieval glass remains and the production of new windows. However, for the first 35 years of the 19th Century it was the latter two tasks which were the prevalent activity of the craftsmen.
Over the 19th century Birkin Haward (Victorian stained-glass expert) estimates that a staggering 1375 windows were installed across the county (both new and old glass). Twelve firms supplied over 70% of the windows installed. As can be seen in the following table, four of the top twelve were local firms:
| | |
| --- | --- |
| Firm | No. of windows |
| Ward & Hughes (London) | 119 |
| Wm Wailes (Newcastle) | 76 |
| J & J King (Norwich) | 75 |
| S C Yarrington (Norwich) | 74 |
| Heaton, Butler & Bayne (London) | 68 |
| J Powell & Sons (London) | 68 |
| Clayton & Bell (London) | 61 |
| J Hardman & co (Birmingham) | 55 |
| J Grant (Costessey) | 44 |
| Lavers Barraud & Westlake (London) | 33 |
| J Dixon (Norwich) | 32 |
| Wm Warrington (London) | 29 |
High Victorian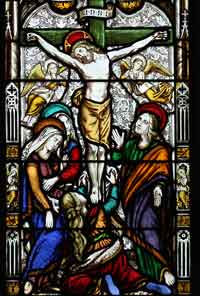 Championed by Augustus Welby Pugin, church architecture from c1840 - 1860 was dominated by a Gothic Revival. Not surprisingly Pugin expected the glass artists to produce windows to complement his designs. He is known to have complained about the lack of skills amongst English craftsman although he grudgingly worked with a selection, including J Hardman & Son (who produced glass for the Houses of Parliament), William Warington and Wm Wailes, subject to them obeying his strict classical demands. Following Pugin's death more artists followed his concepts of design including: Butterfield, Preedy, Clayton & Bell, Ward & Hughes and J Powell.
Obviously, the standard of glass installed in a church was influenced by the budget available. Less wealthy parishes installed windows with jaunty geometrical patterns which was a modern take on medieval grisaille. There was also a question of one-upmanship, in particular the installation of William Warrington's impressive west window at Snettisham in 1848 spurred others to action.
As the century progressed new ideas and fashions impacted on designs. Thus many of these stalwarts of tradition softened their styles often abandoning canopies and replacing strong primary colours with pastel shades.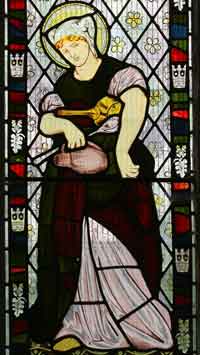 The Pre-Raphaelite Influence
The Pre-Raphaelites with their guiding principle of 'Truth to Nature' had a tremendous impact on artistic design which is clearly exemplified in the Aesthetic and Arts & Crafts Movements that they spawned. J Powell & Son are credited with establishing the latter style in stained glass and they were one of the major producers adopting this style from 1890 up to WW1. Their work has recognisable characteristics, including, a large, bold central figure set in grisaille or patterned quarries with the scene complemented by some combination of architectural canopies, steps, arches or columns.
In Norfolk we have examples of genuine Pre-Raphaelite work. Antingham has a Rosetti window whilst the work of Henry Holiday is located across the county e.g Burnham Deepdale. Sculthorpe contains original designs by Holman Hunt, Maddox Brown and Burne Jones. The faces of the beautiful Jane Morris and her daughter May (wife and daughter of William) have made their way into a handful of Norfolk churches including Dunton, Sculthorpe and Stanhoe.
Modern Continental 19th century continental glassmakers became popular in England during the latter part of the century. Their number included Mayer of Munich. Mayer was a member of the Munich school of glass painters whose work was strongly influenced by the Nazarene group. Examples of Mayer's work can be seen at Brinton. French firms are also represented throughout the region. In particular at St Mary's Church, Feltwell, are windows designed by Eugene Oudinot and Adolph Didron in a 13th century style, which are unique in Britain.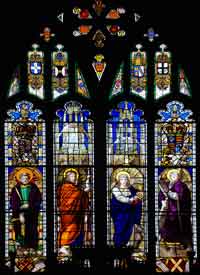 Samuel Carter Yarrington (Norwich)
One of the earliest Norfolk craftsmen was Samuel Carter Yarrington (1781 – 1846). By 1812 he had gained enough skills to advertise himself in the Norfolk Chronicle (26/12/1812) not only as a plumber and house painter but also as a glazier and glass stainer. He offered to reglaze ancient stained glass and restore the defective parts with the 'nicest attention to the original'. He has been accredited with installing 74 windows (the fourth highest level of production in the century). The greater part of Yarrington's work was concerned with the installation of collections of foreign glass. Although little of his 'new glass remains examples of his later work can be seen at Burnham Thorpe. Here, as in much of his other work, he adopted the old German Rennaissance style that he knew so well from his years of installing it.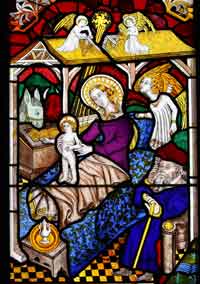 John Dixon (Norwich)

In contrast to Yarrington, John Dixon (1783 – 1857) gained his early experience with lesser medieval restorations. Then around 1837 he began the restoration of glass in St Peter Mancroft, a church where he acted as warden. One of his first tasks was to remove three panels of the medieval glass in the east window which he replaced with a figure of St Peter together with four smaller panels.In 1840 Dixon installed the medieval panels at Felbrigg Hall. In 1881 Dixon's figure was taken out of the Mancroft's East Window and replaced by panels produced by Clayton & Bell. Subsequently Dixon's four smaller panels have been refixed in the south chapel. Dixon, did not produce a vast range of new glass in terms of number or style. Much of his work was destroyed in the war,although the east window which he designed for St John de Sepulchre in Norwich does survive.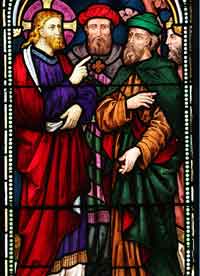 J & J King (Norwich)
As the century progressed a new Norwich school of glass makers emerged which was dominated by the King family. The firm was originally founded by James King (1775 – 1851) in the 1820s. Around 1836 he was joined by his sons James (1804 – 1868) and John (1807 – 1879) who in 1850 found the firm of J & J King. Their work was characterised as being of high quality, conventional in design but with strong clear colours. They are remembered for their 'new glass' rather than their restorations. The firm is believed to have risen to prominence partly as a result of their willingness to learn from the London firms who from the 1850s were operating widely across Norfolk, and also because of the quality of work by their chief designer Thomas Scott, who worked for the firm for 30 years from c1865. Some of their best glass can be see in St Gregory's Norwich, where three windows (and maybe a fourth) were made by them.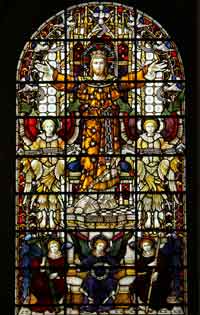 Clayton & Bell (London)
The partners John Richard Clayton (1827 – 1913) and Alfred Bell (1832 – 95) founded their partnership in 1855. Initially their designs were manufactured by Heaton & Butler, but in 1861 they started manufacturing their own glass. Clayton & Bell came to prominence in the second half of the 19th century. Their early work is particularly notable for the brilliance of their High Victorian Designs (1859 – 1863) whilst through the remainder of the nineteenth century their windows are characterised by the consistency of their more orthodox designs and colouring reminiscent of 14th and 15th Centuries. Their designs always integrated the structural lines of the lead into the overall picture. Examples of their worke can be seen across Norfolk, including Emneth and Norwich (St Giles, Cathedral, St Peter Mancroft, St Lawrence, St George Tombland)
To the left is the presbytery triforium window at the Anglican Cathedral.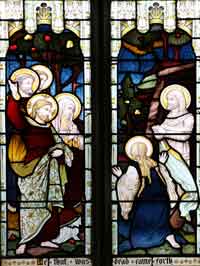 Heaton, Butler & Bayne (London)
Clement Heaton (1824 – 82) and James Butler became partners in 1855 and were joined by Robert Turnill Bayne (1837 – 1915) in 1862. They were one of the largest and most prolific of the 19th-century craftsmen, particularly noted for the brilliance of the High-Victorian windows they produced in the 1860s. In Norfolk we have some of their finest work which can be seen at a number of churches, including Mulbarton and East Dereham.Their work can often be identified by the inclusion of castles in the sky accompanied by pomegranate trees in the distance.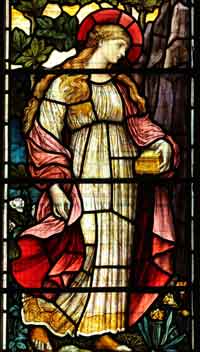 James Powell & Sons (London)
James Powell & Sons of Whitefriars Glassworks flourished from 1834. They were one of the most important and forward looking firms on the 19th century. Their work with Charles Winston advanced the technology and manufacture of glass whilst the employment of progressive Pre-Raphaelite designers e.g. Edward Burne Jones and Henry Holiday resulted in the production of outstanding windows. Across Norfolk we have windows of national significance including: the Albert Moore and Woolridge windows at Thursford, the Holiday works at Banham and Burnham Deepdale and J W Brown's later aesthetic windows at Garboldisham.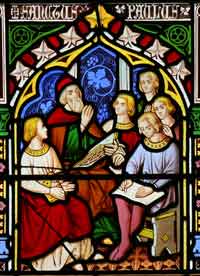 Wm Wailes (Newcastle)
In 1838, William Wailes (1808 – 81) established one the country's earliest large provincial stained glass firms. As someone who hated anything new and who constantly advocated the production of 'glass like the old ones' he was a favourite of Pugin, producing glass for him from 1842 – 5. His work was popular and the firm grew, at one time producing over 100 men. Although his work rarely showed creative flayer it was of a constant standard in both design and craftsmanship. It is typified by its two dimensional High Victorian patterns which are always bright and colourful, but by today's standards could be judged to be somewhat garish. Over 76 windows remain in the county, very typical of his work is South Aisle Window 9 in the Anglican Cathedral.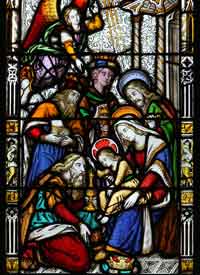 William Warrington (London)
William Warrington (1786 – 1869) was originally a pupil to Thomas Williment but set up on his own producing work for Pugin. His work was much admired and has been installed in major churches and cathedrals across the country. As would be expected from a favourite of Pugin he adopted various medieval styles although he has been critiscised for his lack of archaeological details. He worked before J Powell & Sons began to produce higher quality stained glass and tried to counteract the thinness and transparency of the glass available to him by applying an enamel layer in an attempt to give an 'antique' appearance. His windows can still be seen in 14 sites across Norfolk, including the Anglican Cathedral (North Aisle Bay 6).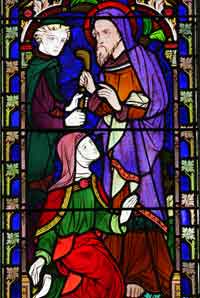 Lavers, Barraud & Westlake (London)
Nathaniel Wood Lavers (1828 – 1911) and Francis Philip Barraud (1824 – 1900) established the firm c 1855. Initailly they employed independent artists as designers, including Nathaniel Westlake (1833 -1921) who became a partner and sole designer after 1868. Many of their early designs were strongly coloured designs executed in a style redolent of the 13th century. Thus panels typically constituted artist designed figures set in medallions. A typical example can be seen in the South Aisle 3 window at Hingham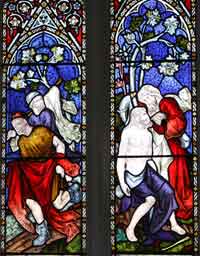 J Hardman & Co (Birmingham)
Members of this family firm included John Hardman senior, (1767-1844), John Hardman junior, (1812 – 1867) and his nephew, John Hardman Powell (1827 – 94).They were one of the major firms established in the 19th century and worked very closely with Pugin delivering high quality Gothic Revival style windows. The quality of Hardman's church windows especially in the 1850s and 60s, was superb. Their stained glass recreated the elegance and the refinement, that is seen in some of the finest examples of work from the 13th and 14th centuries. Their designs are original innovations in the Gothic style. The quality of Hardman's church windows, particularly in the 1850s and 60s, was superb.The most famous building that the Hardmans made glass for was the new Houses of Parliament in London, where Pugin was the interior designer. Particularly good examples of their work can be seen at Saxlingham Nethergate ( North Aisle window 2) and of course in the Catholic Cathedral, where the firm designed the majority the windows.
J Grant of Costessey (Norfolk) Ward & Hughes (London) Thomas Ward (1808 – 70) originally worked in partnership with James Henry Nixon (1802 – 57) , following the latter's retirement c1850 Ward took Henry Hughes (1822 – 1883) a pupil of Nixon's into the firm. The arrangement seems to have been rather loose as many windows appear to have been produced by Hughes personally. After Hughes' death, the partnership was continued by Thomas F Curtis, whose personal style and signature can be seen in many later windows. In his early work Hughes adopted a High Victorian style and produced attractive work, however, from 1870 the firm moved into "mass production" often resulting in their work being of a lower standard. Earlier examples of work include windows in the south aisle at Denton. Here, bright glowing colours are used and little cacti & succulents can be spotted growing in the foreground – both these are characteristic of the firm's work.