Twentieth Century Glass Makers
Despite stained glass production declining in the 20th century, beautiful windows were still made. The Arts & Craft movement continued to influence design early in the century, e.g. in the cathedral (North Transept West 1) is a memorial window by Morris & Co very much in the style of Burne Jones. However, by the 1920s it had developed into Art Deco, as exemplified by the depiction of St Margaret of Antioch at Burnham Norton. As the century progressed an amalgam of styles emerged, truly giving something for everyone. Fine examples of 20th-century windows can be viewed throughout the county including work by the following:
G King & Son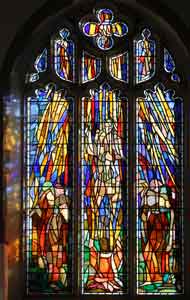 Although Norwich was not a centre of glass making in the 20th century, one firm had a strong national reputation.
G. King & Son (Lead Glaziers) Ltd  was founded in 1927 after the closure of  J & J King,  the shared name was a pure coincidence.  George set up the firm assisted by his 15 year old son Denis. They were renowned for the quality of their work. From 1945 onwards they not only worked extensively across Norfolk but also on prestigious collections including:  the glass at Winchester College Chapel, Kings College Chapel Cambridge and Merton College Chapel Oxford.
As demand fell for new windows, under the guidance of Denis King the firm evolved to specialize in restoration and conservation, and so it was natural when the Glaziers Trust was set up at York in 1967 and the Cathedral workshops at Cantebury that he was called in by both organisationsa as a technical consultant.
The county owes much to this firm for the preservation of our heritage. Of particular note are restorations at: Saxlingham Nethergate, St Peter Mancroft (Norwich) and East Harling.
When Denis King retired, the firm was led by his son Michael who carried on the firm's traditions. Michael made the outstanding east window in St Margaret de Westwick (Norwich). The firm finally closed in 2003 with the retirement of Michael – which truly was the end of an era.

John Hayward (1930 – 2007)
John Hayward designed and made nearly 200 windows that grace churches and cathedrals throughout Britain and abroad. He is particularly renowned for his use  of symbolism, colour, and paint which are used to produce abstract images.
There was a great demand for artists in the post-war church-building boom, and his first major commission was a scheme of windows for the ruined Wren church St Mary-le-Bow. This was followed by numerous commissions for church furniture, altars, crosses, and coronas. His skills can and versatility can be particularly seen at Blackburn Cathedral, where he designed the central altar, and, above it, a steel corona lit from above by a glass lantern (which he made).

In Norfolk he has made windows at a number of sites, including : the east window at St Mary's & All the Saints Little Walsingham (which is very similar in style to the windows at St Mary le Bow) and a triptych in the Anglcan Cathedral's North Wall Triforium which was amongst the last work he completed.